Why Taylor's Do it Center?
With over 90 years and four generations of engagement in our local community, no one knows the needs of Hampton Roads homeowners like Taylor's. We have the products, services, and solutions our customers are looking for. And, with 11 convenient, neighborhood locations, help is never far away. Our staff members are seasoned veterans, and our store management team members average over 10 years of experience. And, if you should ever need to, you can pick up the phone and call the owner. When your name is on the door, you care a little more.
One Family Helping Others with Hardware Since 1927
The Year was 1927. The first talking movies held cinema audiences enthralled. "Lucky Lindy", Charles Lindbergh, soared to celebrity after making the first solo flight across the Atlantic. With much of the nation's economy "roaring," everything seemed possible. So, with just $1,750 in capital and an old Ford truck between them, a few men decided to stake their futures on their belief that by offering excellent products at value prices with superb customer service, they can make a place for themselves in the business community. The business of Fuel, Feed and Building Supplies was born.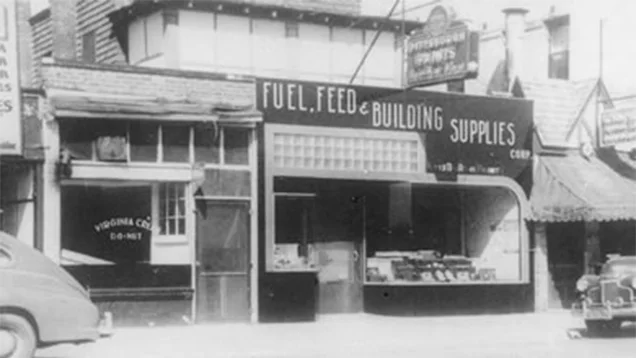 The Early Days of Taylor's Do it Center
At Taylor's, doing business the old-fashioned way has never gone out of style. You can trace Taylor's hometown values and service straight back to the principles of the original founders – James Jordan,  Audie Fisher,  Edward Hardy, and Willard Ashburn, joined in short order by Robert Taylor. Its been neighbors helping neighbors to grow a small seaside town into a thriving coastal community. From the beginning, it's been a family affair. Robert Taylor's son, Dawson, has fond boyhood memories of the times he spent hanging around the warehouse and coal yard, then later the 17th Street hardware store when it opened in the early 30s. "I'm sure my friends and I often made pests of ourselves as we played hide and seek behind stacks of roofing and cement," he admits. The fact is, a boy growing up in the 20s and 30s would have been hard-pressed to find a more fascinating place in all of Virginia Beach to spend his growing years than Fuel, Feed and Building Supplies, Dawson believes.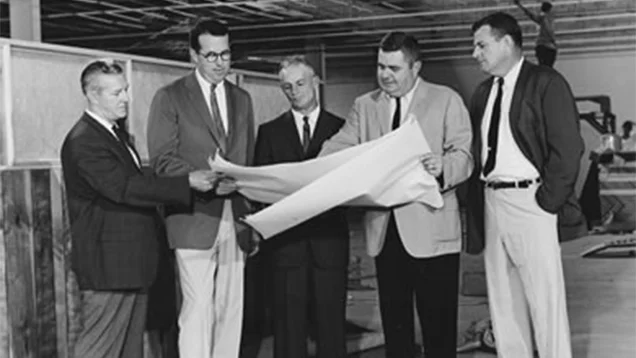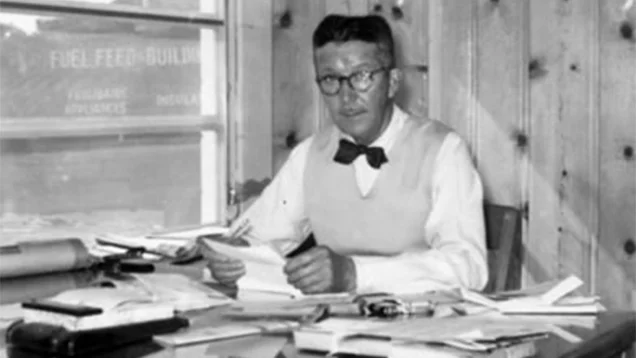 The business supplied materials for a great deal of the early commercial and residential construction in the small but growing town of Virginia Beach. Deliveries of building supplies and coal were made by horse cart in those early days, traveling to the north end and south to False Cape. The company grew along with the town, and later added Mobil fuel oil to the mix of products they supplied. This expansion, and the regular home deliveries that accompanied it, continued to enhance the already close connections the company had with the community. So close were they that there were often requests from customers to have the oil delivery driver bring an extra item or two with them from the store on their next delivery.  In the early 60s, surfing was gaining in popularity and a young Hobie Alter traveled to the east coast in search of dealers for his new line of fiberglass surfboards. He met with an equally young Dawson Taylor who agreed to add the boards to the Fuel Feed store on 19th Street, becoming one of the very first Hobie dealers on the east coast. It was fun and exciting, with Fuel Feed helping to sponsor the very first Surfing Carnival in Virginia Beach (today's ECSC). They soon realized, however, that the surfboard clientele wasn't exactly the same mix as the hardware clientele, and that business transitioned to the first surf shop in the area, Smith & Holland.

Celebrating 90 Years of Business in Hampton Roads
90 years later, that original coal yard and small warehouse has become Taylor's Do it Centers, one of the region's biggest home-grown success stories. As one of Virginia Beach's oldest retail businesses, this family-owned and run enterprise continues to be the destination of choice for homeowners who come to Taylor's expecting to find the same things customers have found for 90 years now: uncommon customer service, quality merchandise, cheerful expertise, excellent selection and competitive pricing.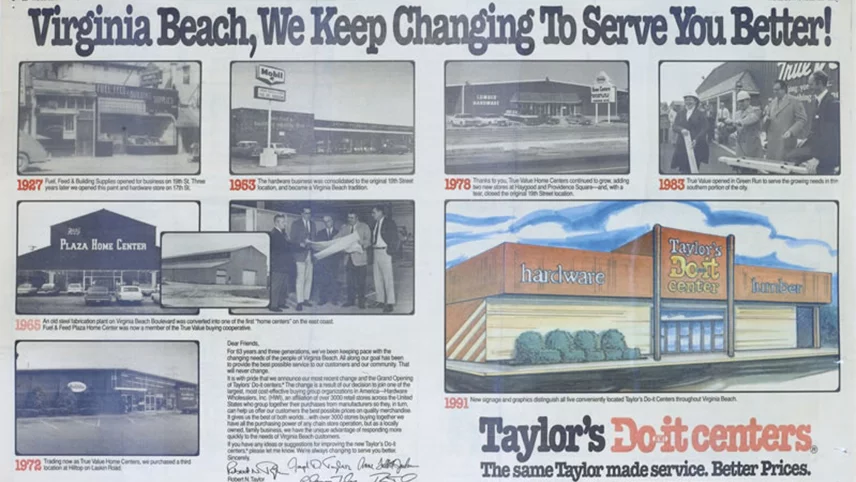 The first expansion for the company beyond their original 19th Street location was led by the sons of the founders in 1965. Dawson Taylor, Jimmy Jordan, and Chick Jordan, along with Marshal and Audie Fisher joined together to open the very first "home center" in the region in 1965 in the growing area of Princess Anne Plaza. They converted an old steel fabrication plant into a large, modern indoor showroom for lumber and building materials. That year they also joined the True Value hardware cooperative. The company expanded again in 1973 with the acquisition of an existing hardware store in the Hilltop area of the city. 

By 1978, the Resort area of the city had become so busy during the summer months that more and more residents were hesitant to make the trek to the original 19th Street location during the busy season. So, the company decided to move and celebrated with a giant "Grand Closing" party for all their customers before selling that property to the city for future development. They took the funds from that sale and invested them in two new locations in the up and coming neighborhoods of Kempsville and Haygood in Virginia Beach.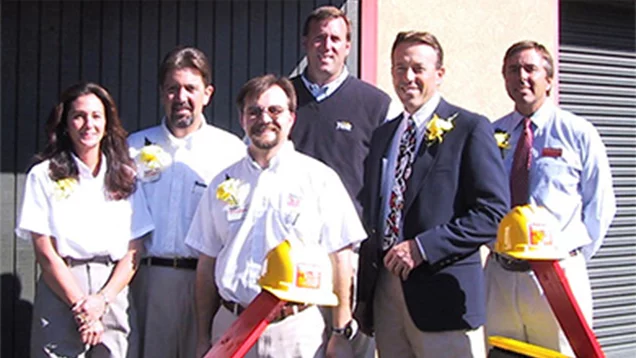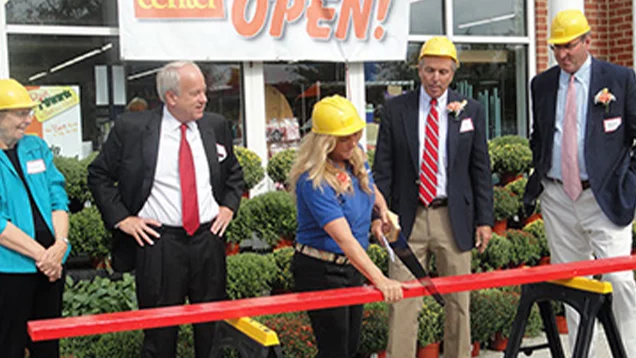 In 1990, Taylor's Do it Centers gained significant additional buying power and support when they changed their primary buying affiliation from True Value to Do it Best Corp., a member-owned hardware cooperative that supplies the Taylor's Do it Center stores here, along with 3,800 other independent hardware and building supply retailers across the country and around the world.
Taylor's has since added locations on Colley Avenue and Little Creek in Norfolk, at Great Bridge in Chesapeake, Poquoson, Moyock, NC, Bennett's Creek in Suffolk, and at Marina Shores and Courthouse in Virginia Beach. 
In February 2016, Taylor's embarked on their most aggressive expansion to date, acquiring Pleasants Hardware with seven locations of their own in Richmond, VA. With a more than 100-year family business history of their own, the acquisition of Pleasant's pulls together two Virginia companies with very similar histories and cultures, and a shared commitment to their customers and their communities.

"We're keeping Pleasants as an independent locally owned store and are excited about the future of Pleasants." - Joe Taylor (Richmond Times-Dispatch)

A Family Business From Hampton Roads
All three of Dawson's sons have followed in their father's footsteps. Oldest son Bob Taylor followed Dawson as company President but left the helm of Taylor's in 2001 when he was asked to head Do it Best Corp., Taylor's buying cooperative headquartered in Fort Wayne, IN. After 15 years as CEO for Do it Best Corp., Bob returned home to Virginia Beach in 2016 and continues to serve on the board for Taylor's along with his father and his two brothers. Joe Taylor is the current President & CEO of the company, while Russ Taylor serves as Vice President/Operations Manager. 
Five members of the fourth generation of the Taylor family are now actively engaged in the family business.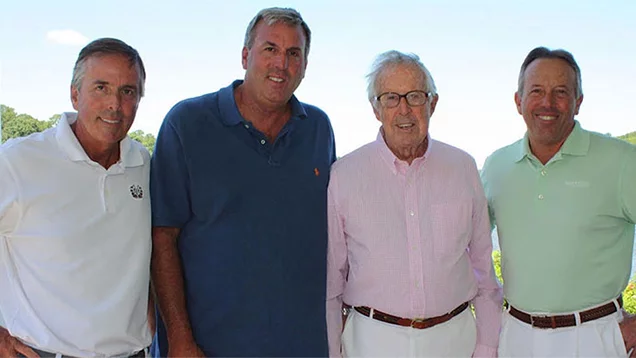 Generations Friendships and Giving Back to the Community
The founders, and each succeeding generation have always been integrally involved in their neighborhoods and their region. Among them, they have served terms in office as vice-mayor and on the school board and helped establish the city's first Rotary Club. They've chaired the Chamber of Commerce, the Better Business Bureau, the Retail Alliance and the United Way Campaign. They've helped establish hospitals and healthcare facilities, sponsored community events, headed numerous fundraising drives for charities and community groups, garnered numerous awards and recognition on both the local and national stage, and given generously to worthy causes. And, along the way, they've employed a wonderful family of thousands of residents. Dawson sums it up simply, "we will always remain grateful to our customers, our friends, and our associates who continue to help make our success possible."