Available at Your Neighborhood Taylor's Do it Center
Enjoy the beaches around Hampton Roads like you never have before with the WheelEEZ® Beach Cart. Transporting all your beach gear at once over soft sand, pebbly beaches, trenches, or mud can be done with ease. You won't need extra trips to get your cooler, beach chairs, and umbrellas to the beach.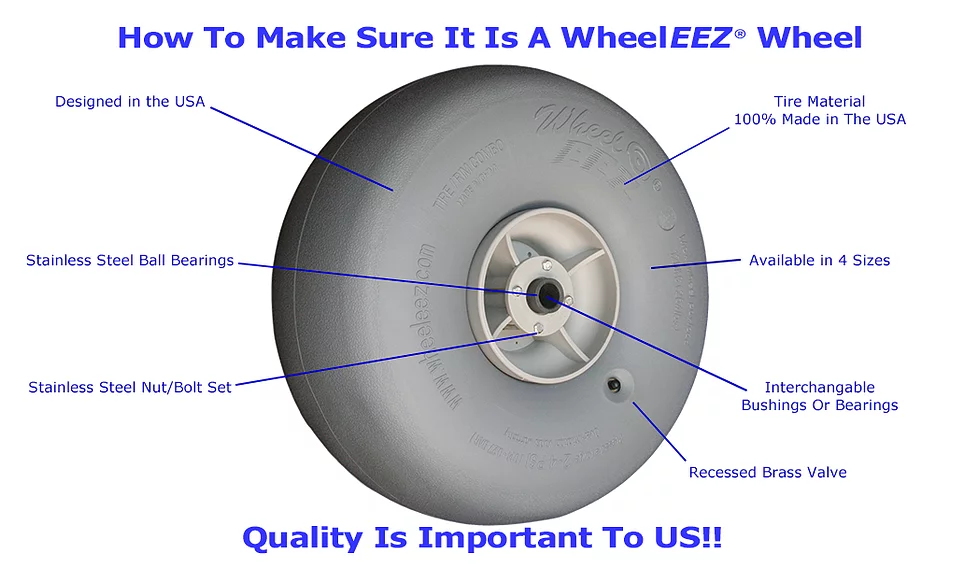 WheelEEZ's special low pressure balloon wheels will not sink or slow into soft sand, soggy grass or other unstable or uneven surfaces. Heavy, awkward loads are easily pushed or pulled over most all terrain by anyone, even children. Made in the U.S., WheelEEZ's wheels are what sets this beach cart apart from the rest.
WheelEEZ Beach Cart easily carries almost anything:
Coolers, picnic equipment, chairs
Boogie board/surf equipment
Umbrellas, towels, fishing equipment
Hunting equipment, beach cleanup debris
Wheeleez Beach Cart is great for use:
On sand, mud, and snow;
On soft, soggy grass, and turf;
On other environmentally sensitive areas.
WheelEEZ's Beach Cart Options for Hampton Roads
All of WheelEEZ's Beach Carts are easy to travel with and store because the handle bars and kickstands fold and the wheels and axles can be removed without tools. WheelEEZ's Beach Cart can also be used in gardening, so you don't have to worry about damaging your lawn or flowerbeds. Taylor's Do it Center carries a variety of sizes of WheelEEZ so you can find the one that best suits your current needs.
The Original Beach Cart
This wheelbarrow style beach cart brings lots of storage, easy maneuvering, and the biggest wheels on any of the WheelEEZ's beach carts. There is plenty of room for all your beach toys, coolers, snacks, and more with this cart. It holds up to 220 pounds of gear!
Beach Cart – Folding Sports Caddy
If you're looking for a beach cart that folds for compact storage, WheelEEZ has what you're after. The Wheeleez Beach Cart Folding Sports Caddy folds compactly for storage and fits in the trunk of the smallest car. This cart is ideal for carrying a round or rectangular cooler and your beach gear.
Beach Cart – Folding Mini
The WheelEEZ Beach Cart Folding Mini is the perfect cart when trunk space is tight, yet you still want to carry everything in one trip. Nothing compares with this beach cart for simplicity; even children can push or pull this cart with ease.
Kayak Cart - Beach
The WheelEEZ Kayak Cart - Beach is equipped with 30 cm Polyurethane wheels to transport your canoe or kayak with ease over soft sand and other challenging surfaces. It even includes an optional Rail Kit attachment added stability when transporting deep keel canoe or kayak.
--
We love to recommend the WheelEEZ Beach Carts to anyone looking to enjoy the beach with as little stress as possible. If you need a recommendation or suggestion for which cart might be best, visit us in-store today.